Storage Tank Services
Tanks for Hire is your temporary water and diesel storage specialist.
We offer tanks and pumps for purchase or hire and are happy to deliver to your site.
The team at Tanks for Hire are committed to providing a versatile range of services to suit the unique needs of every client.We can custom make tanks and dribble bars or fan jets for your vehicle and are happy to recommend the ideal tank for your site.
For a safe and easy solution to your water and diesel storage needs, contact us today.
Featured Products
Ride to Conquer Cancer (New Drink Station)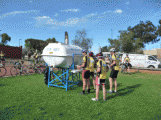 The Sunsuper Ride to Conquer Cancer held on the 20th and 21st of October 2012 was the largest cycling fundraiser in Western Australia drawing 1,219 Riders and raised over $4.6 million for the Western Australian Institute for Medial Research (WAIMR).The rider cycled in total over 200 km with an overnight camp in Pinjarra before returning to Perth finishing on Sunday. Tanks For Hire would like to say thank you to all the participants and the volunteers who made it a success.The photo of Tanks For Hire new drinking Station was taken at one of the many pit stop on the course.
City of Swan hiring a 45,000 ltr Waste Water Tank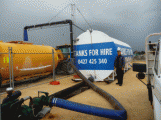 This 45,000 ltr Waste Water Tank was hire out to the City of swan to help with the work for the recreational oval in Bordeaux Lane in Ellenbrook. The 3 cyl diesel Mine Compliant pump has a pumping capacity of 90 ltr a second and can fill this dynasore tanker in 3 minutes.
City to Surf 2012 Perth WA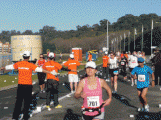 The Chevron City to Surf for Activ continues to grow over its 38 years to be one of the largest community events in Perth WA. Just like City to Surf, Tanks For Hire is always looking for ways to improve our products to ensure we offer the best potable drinking water solution.Tanks For Hire have new drinking bubbler taps and bottle filler units which are great for any outdoor social events.